Beyond the Military:

A Leader's Handbook for Warrior Reintegration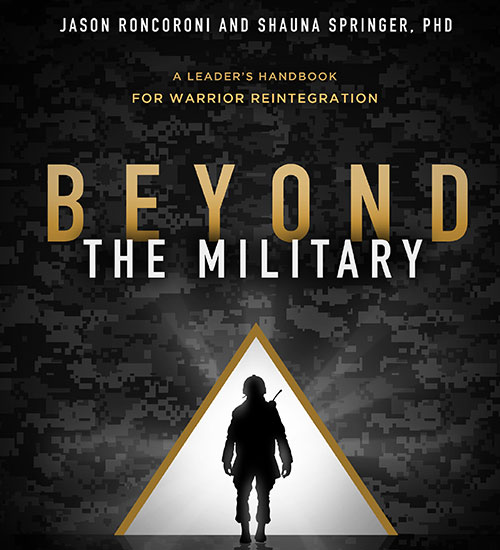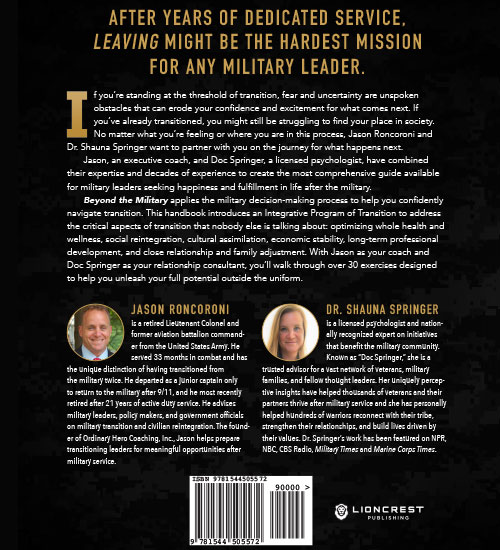 Beyond the Military: A Leader's Handbook for Warrior Reintegration

After years of dedicated service, leaving might be the hardest mission for any military leader. If you're standing at the threshold of transition, fear and uncertainty are unspoken obstacles that can erode your confidence and excitement for what comes next. If you've already transitioned, you might still be struggling to find your place in society. No matter what you're feeling or where you are in this process, Jason Roncoroni and Dr. Shauna Springer want to partner with you on the journey for what happens next.

Jason, an executive coach, and Doc Springer, a licensed psychologist, have combined their expertise and decades of experience to create the most comprehensive guide available for military leaders seeking happiness and fulfillment in life after the military.

Beyond the Military applies the military decision-making process to help you confidently navigate transition. This handbook introduces an Integrative Program of Transition to address the critical aspects of transition that nobody else is talking about: optimizing whole health and wellness, social reintegration, cultural assimilation, economic stability, long-term professional development, and close relationship and family adjustment. With Jason as your coach and Doc Springer as your relationship consultant, you'll walk through over 30 exercises designed to help you unleash your full potential outside the uniform.


Author Bios

JASON RONCORONI is a retired Lieutenant Colonel and former aviation battalion commander from the United States Army. He served 33 months in combat and has the unique distinction of having transitioned from the military twice. He departed as a junior captain only to return to the military after 9/11, and he most recently retired after 21 years of active duty service. He advises military leaders, policy makers, and government officials on military transition and civilian reintegration. The founder of Ordinary Hero Coaching, Inc., Jason helps prepare transitioning leaders for meaningful opportunities after military service.

DR. SHAUNA SPRINGER is a licensed psychologist and nationally recognized expert on initiatives that benefit the military community. Known as "Doc Springer", she is a trusted advisor for a vast network of veterans, military families and fellow thought leaders. Her uniquely perceptive insights have helped thousands of veterans and their partners thrive after military service and she has personally helped hundreds of warriors reconnect with their tribe, strengthen their relationships, and build lives driven by their values. Dr. Springer's work has been featured on NPR, NBC, CBS Radio, Military Times and Marine Corps Times.
Media hits and additional links related to, Beyond the Military: A Leader's Handbook for Warrior Reintegration
Read Customer Reviews
The content contained within this handbook unlocks the true meaning of sacrifice, the value of service, and importantly, describes in detail the path home. Bravo Zulu Jason and Shauna. Your well-timed and much-needed handbook, like a lifeline tossed from that precipice, will be no less than lifesaving.
- Robert Koffman, MD, MPH, Captain, Medical Corps, USN (retired); 32 year Navy Veteran & psychiatrist

Despite having served two tours in the Balkans, two tours in Iraq, and two tours in Afghanistan, retiring from the Army was perhaps the most stressful period in my life. I would have given anything for a roadmap to help with advice and expectations. BEYOND THE MILITARY will make a profound difference in the lives of countless thousands of service members embarking on their next chapter in life. Well done and thank you Jason and Shauna!
– Colonel (Ret) Jimmy Blackmon, author of COWBOYS OVER IRAQ and PALE HORSE: Hunting Terrorists and Commanding Heroes with the 101st Airborne Division.

Beyond the Military should be read by every transitioning service member and veteran. It is also required reading for the spouses, parents, and caregivers for veterans, as well as government, corporate, and social sector employers and employees who serve veterans.
- Sherman Gillums Jr., Chief Advocacy Officer, AMVETS National