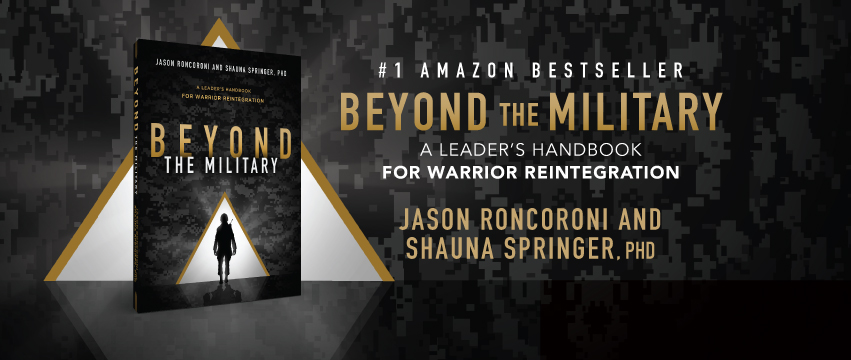 Beyond the Military:
A Leader's Handbook for Warrior Reintegration
The market is flooded with transition books and manuals. Each one purports to have the "best solution" to help address military transition. However, existing manuals focus almost exclusively on things like how to translate military skills to civilian work settings, how to create resumes, search for jobs, prepare for job interviews, etc. The central goal of existing transition manuals is to help people get their next paid job outside the military.
My co-author,
Jason Roncoroni
, and I take an entirely different approach. What Jason and I know – from decades of experience – is that
military service is not a job – it's a way of life that pulls from deeply held values that are often very different from the values that guide individuals who have never served in the military. Moreover, service members are not like co-workers – they are family.
So, rather than focusing in a narrow way on helping military service members get their next paid gig, we need to ask ourselves how we would best support a group of people who have just lost regular contact with their family, who often feel invisible and irrelevant is a society that has values that are different from theirs, and who need to navigate this high-stakes cultural divide if they are to thrive after the military.
Beyond the Military: A Leader's Handbook for Warrior Reintegration
is therefore written as comprehensive, interactive resource that addresses the deeper psychological, cultural, and relational aspects of modern warrior reintegration. We do not address the more recognizable tactics and practices involved in securing employment - topics that are the primary focus of existing books and associated references on military transition.
The purpose of this handbook is to create an integrative strategy for civilian reintegration, continued growth, and lifelong success as a veteran leader in civilian society. Integral to this is guidance to help service members and veterans forge stronger, healthier bonds with the people they care most about through transition and reintegration.
The essential question this handbook seeks to answer is . . .
How can I create a life that honors who I am, allows me to make an impact doing things that I care deeply about, and strengthens my relationships in meaningful ways?
Here are 5 things that set our work apart from everything that has come before…
Unlike other books, which focus on the military-to-civilian employment transition, we provide a comprehensive, interactive resource that addresses the deeper psychological, cultural, and relational aspects of modern warrior reintegration.
Beyond the Military was born from a unique collaboration between a former battalion commander/combat veteran and a licensed Psychologist, both nationally known subject matter experts on the topic of successful transition from the military. Through this strategic partnership, we combine lived experience with clinical expertise.
This book is written with the tone and intimacy of a coaching partnership or relationship counseling. We wrote this in a way that speaks directly to the reader.
There are more than 30 completely original, innovative exercises that Jason and I have developed to help readers apply the insights they gain. These are not found in any other books on transition.
Beyond the Military is the first known reference written specifically for leaders with 10 or more years of military service. By giving military leaders a comprehensive roadmap to successful transition, we expect that military leaders will not only directly benefit, but that they will be able to guide others through a successful transition process. By strategically targeting leaders, we aim to fundamentally disrupt the way that transition is understood and navigated.
Get A Copy
Top 20 book recommendations for those who serve those who have served