RELENTLESS COURAGE:

Winning the battle against frontline trauma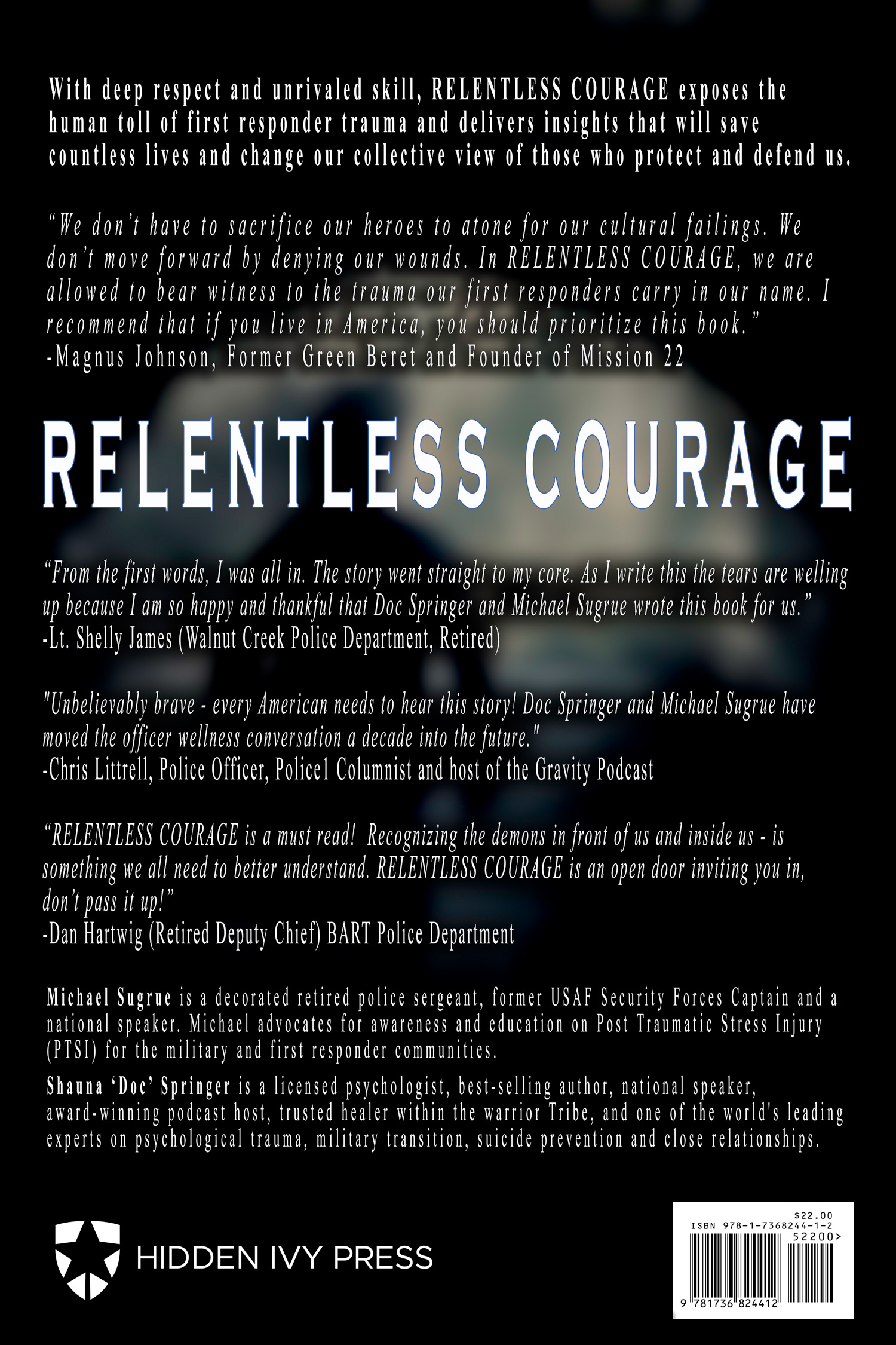 Download Resource List from RELENTLESS COURAGE
OTHER EARLY REVIEWS
RELENTLESS COURAGE has break-through potential for guiding leadership within the law enforcement community. There is a big difference between leading an organization and leading a Tribe - and RELENTLESS COURAGE is the first book I've read that identified this difference. Every leader in the LEO community needs to read this book, and then rethink their role in changing the culture. Reading RELENTLESS COURAGE was like taking a walk next to Michael Sugrue as he brings you deep into his own journey. His courage in sharing his personal experiences is truly relatable and will be life changing for others who read this book. Doc Springer's analysis and insights were delivered in a down-to-earth, totally relatable way. Reading her portions of the book felt like sitting on the back porch with Doc and learning a range of new ways of thinking about trauma and healing for first responders. Both Doc and Michael showed the human side of trauma and its impact - the way they shared his story and identified psychological insights related to it was uniquely powerful - I've never seen this kind of format before, and it is very effective.
Chief John Carli
Vacaville Police Department (Retired)
I have been a police officer for more than 23 years. I worked motors, SWAT, CSI and was a trainer at numerous Police Departments and the Police Academy. I have served for 16 years on the board of the Police Union and I've been its President for a decade. I have worked multiple traumatic events including numerous homicides, suicides, as well as personally being involved in 3 on-duty shootings. I have been injured in the line of duty requiring surgery. The work that Michael Sugrue and Doc Springer are doing is saving lives every day. And their new book? To make an ice hockey comparison, their book RELENTLESS COURAGE is the game-winning goal in game 7 of the Stanley Cup.
Ron Bruckert
Retired Police Officer and POA President
RELENTLESS COURAGE takes you deep into First Responder trauma and the damage and despair associated with it. But along with this, hope, healing strategies, and coping mechanisms are brought to light. As someone who has survived child abuse, cancer, multiple heart surgeries, head trauma and negotiated with several hundred individuals contemplating suicide from the Golden Gate Bridge, I have observed and been through a fair amount of trauma. This book is a game changer for me, and a must read for any First Responder.
Sergeant Kevin Briggs
California Highway Patrol (Retired) and Author of Guardian of the Golden Gate
RELENTLESS COURAGE: Winning the Battle Against Frontline Trauma is an unapologetic hard hitting and necessary read for all public safety and military leaders. Our frontline responders deal with significant daily trauma. Doc Springer and Sgt Sugrue do a fantastic job clearly articulating and translating these issues into teachable moments for those who selflessly serve our communities and for those that lead them. Ten Stars all the way around!
Dave Weiner
Chief of Police (Retired), US Department of Veterans Affairs, and United States Air Force Veteran
RELENTLESS COURAGE takes you on a journey while taking a very unique path. The expertise of Doc Springer, combined with the vulnerability of Sergeant Mike Sugrue, bares strength and courage in bringing these difficult conversations out of the shadows and into the open. Their tireless work will change outcomes and needs to be shared at all levels of an organization, from preparing our recruits entering the profession to developing much-needed, trauma-informed leaders.
Chief Neil H. Gang
Pinole Police Department, Member of the Board of Directors for the California Police Chiefs Association
RELENTLESS COURAGE: Winning the Battle Against Frontline Trauma provides invaluable insights into the experience of police work and how to heal from frontline trauma. Doc Springer walks with Michael Sugrue through his trauma journey, gently cracking open the door and sharing her insights, and together they expose, with measured care, what is rarely seen by those outside of police work. Throughout the book, Michael Sugrue smashes the stigma through his vulnerability, providing a roadmap for others on the frontline who are on similar journeys. As a specialist who focuses on police trauma and wellness, I highly recommend this easy-to-read guide on winning the battle against frontline trauma.
Jason M. Palamara
NYC Police Department Cold Case Homicide Detective (Retired) and U.S. Navy Veteran
RELENTLESS COURAGE is an essential read for all first responders and their families. Michael Sugrue's vivid description of his traumatic journey provides the reader with a stronger understanding and insight into the lasting impact of critical incidents. Dr. Springer does an outstanding job eloquently breaking down Michael's experiences from a clinical perspective. Her analysis offers a deeper layer of knowledge and awareness to those experiencing symptoms of PTSI and helps those surrounding them to better understand their plight as they endeavor to provide their support. RELENTLESS COURAGE is an excellent collaboration that will definitely have an impact on all who read it.
Lt. Steve Bertolozzi
Walnut Creek Police Department (Retired)
I'm extremely grateful to Sergeant Mike Sugrue (Retired) and Dr. Shauna Springer for their detailed work on RELENTLESS COURAGE. In recent years, Mike and Shauna have pioneered a new way of looking at First Responder trauma that sadly, has been largely ignored and dismissed over the years. I strongly suggest public safety and military leaders take the time to not just read, but to embrace Mike and Shauna's experiences and thought-provoking analysis. Make this book a cornerstone of your leadership style, openly discuss it with your organizations and develop a culture of care for your organizations, and their family members, to benefit from.
Ryan J. Millay
Lt Col, USAF (Retired)
RELENTLESS COURAGE is a must read! Sgt. Sugrue and Doc Springer have produced lessons learned for all - from the patrol officer to the Chief of Police! Sugrue and Springer clearly describe the true effects of an Officer Involved Shooting, with critical analysis and key insights throughout. Recognizing the demons in front of and inside of us is something we all need to better understand. Learn how you can help yourself and do it with support! RELENTLESS COURAGE is an open door inviting you in, don't pass it up!
Dan Hartwig
Retired Deputy Chief, BART Police Department
RELENTLESS COURAGE is a must read for any Law Enforcement Officer or First Responder. The stories told through the heart of Retired Sergeant Michael Sugrue are horrifying and encouraging at the same time. HEALING IS POSSIBLE if you are willing to speak up and speak out. As Law Enforcement Officers, we cannot avoid or control the trauma we face, but we can control how we react and cope with it. Shauna "DOC" Springer explains how the mind works through trauma and gives us all hope that we can heal. I want to personally thank both Sergeant Michael Sugrue and Doc Springer for teaming up to tell such a difficult story and provide ways to heal. This book will save lives!!
Lieutenant Sean Conley
Walnut Creek Police Department (Retired)
RELENTLESS COURAGE is a book that we all desperately need right now, and it couldn't have come a moment too soon. Our nation's LEOs are in crisis, and there is no civilian psychologist out there who knows the warrior's heart like Doc Springer does. Michael Sugrue has lived a police officer's worst nightmare, and his courageous sharing of his story, paired with Doc Springer's expert unpacking of its psychological underpinnings, provides a multifaceted and unprecedented look into the heart of the complex traumas that America's police officers are privately suffering. This should be considered essential reading for anyone in the law enforcement community, anyone concerned with officer resilience, and those seeking real understanding of--and solutions to--the suicide epidemic among LEOs in our country.
Alice Atalanta, Ph.D.
Author specializing in work with the Special Operations community, and founder of the SOFxLE program--bringing resilience solutions from members of SOF to LEOs nationwide. www.sofxle.com
RELENTLESS COURAGE is a MUST READ for all persons involved in any emergency response work, including police officers, firefighters, and paramedics. This book should be required reading for all first responders, from the newest hire to the highest levels of department leadership. To include all administrative and elected officials with civilian oversight of emergency response departments. I had the honor of serving with Sergeant Mike Sugrue for over 10 years while employed as a Patrol Sergeant and Watch Commander Lieutenant with Walnut Creek Police Department. Mike was an outstanding police officer with unlimited potential. Mike's forthright sharing of his personal experiences and Doc Springer's insightful analysis is a winning combination. Doc Springer shares her wealth of knowledge in easy-to-understand terms that is very helpful to the reader. I highly recommend that this book be prescribed reading in all entry level academies and revisited during advanced officer and in service training. Having served in a combat zone as a Marine Corps Officer, I can personally attest to the unseen trauma that takes its toll on the bravest of the brave.
Timothy J. Barrett
Lieutenant Colonel USMC (Ret.), Lieutenant Walnut Police Department (Ret.)