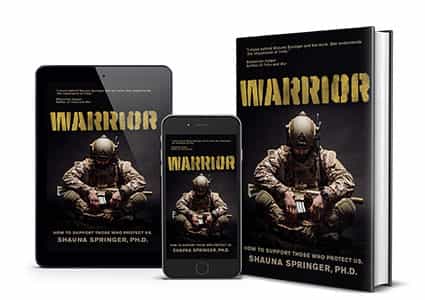 WARRIOR brings the worlds of the warrior and those they protect together to shine new light on things that many of us thought we understood. For example,

• Trust,
• Stigma,
• Firearms,
• The Imploding Mind, and
• Connection.

Dr. Shauna Springer is a licensed psychologist and nationally recognized expert on initiatives that benefit the military community. Known as "Doc Springer", she is a trusted advisor for a vast network of veterans, military families and fellow thought leaders. Her uniquely perceptive insights have helped thousands of veterans and their partners thrive after military service and she has personally helped hundreds of warriors reconnect with their tribe, strengthen their relationships, and build lives driven by their values. In WARRIOR, she offers us a window into how our bravest citizens may struggle and draws from the experiences of our warfighters to help us understand true courage and the bonds of love that keep all of us in the fight.


Excerpt from the foreword of WARRIOR
Written by Sgt. Eddie Wright, USMC (retired)

I remember waking up in the Intensive Care Unit (ICU) at the National Naval Medical Center (NNMC) Bethesda Maryland Hospital. From the outside looking in, I should have been devastated. Both my hands were blown off completely. My left leg was wrapped in plastic, the tissue of my thigh and shin shredded to oblivion. Skin grafts were in the near future for me. No less than six suction tubes connected me to the wall. I could see my injuries, and I could remember every bit of the sights, sounds, and pain associated with taking a direct hit with an RPG. What a horrible thing for anyone to have to go through. Right? Yes, perhaps, if you allow yourself that perspective. But that's not my perspective, and perspective is the hallmark of resilience.

I am fortunate that in my journey towards improving my mindset and emotional well-being, a brother I served with introduced me to Doc Springer. I had seen firsthand how her approach had helped out my fellow combat veteran so much. That was enough for me personally to "vet" her, as we veterans like to do. We spoke about personal concerns of mine and of trauma. I explained to Doc Springer that what I struggled with daily was not the loss of my hands or the disability it implied. She nodded with a look of recognition and said to me, "I bet a lot of people assume that your biggest trauma, the one that has been the most challenging, is the loss of your arms, but I can see that that's not the case for you. You've adapted and overcome in that area the way that Marines do. Your trauma is not what most people assume." And this is the truth that many people—even people with advanced clinical training—cannot see.

Doc Springer doesn't emit pity because she understands the warrior spirit at an instinctive level. She has a no-nonsense approach to treating or preventing Post-Traumatic Stress. She communicates that we are strong enough to overcome the challenges before us and that we can do this by using skills we possess already, whether we realize it or not.

This is a book about the challenges we face, but make no mistake about Doc Springer's approach. She doesn't see us as broken. She calls to our strength and she walks with us in a way that translates like this: I see the challenges before you, and I can help you get clear on them as well. Now, get up and fight.

Sgt. Eddie Wright, USMC (retired)
Bravo Co. 2nd Plt. 1st Reconnaissance Bn.
OIF I, II


WARRIOR: The Preface (written by Doc Shauna Springer)
Every year, we donate hundreds of millions of dollars to causes that support service members, veterans, and first responders. We allow our military service members to board airplanes before we do. We honor them at ballgames. We have an insatiable appetite for movies like American Sniper, books written by Navy SEALs, and warrior stories on television like Jack Ryan, The Unit, and SEAL Team. The preview for the remake of Top Gun instantly went viral. All of this suggests that we are interested in the experiences of our nation's warriors, and we care about the well-being of those who risk it all to protect us.

And yet, despite all the thanking veterans for their service, today's veterans tell me that they feel no better understood by society than our Vietnam veterans did. They tell me that they feel often feel invisible, like ghosts trying to navigate through a culture that has values that are completely different than their values.

Many people in society—including a fairly large number of therapists—seem to think that veterans come back traumatized by what they see and do in combat. Through public and private funding, we have invested hundreds of millions of dollars to develop effective treatments for post-traumatic stress, and to diagnose and better understand TBI. We are told that these are the "invisible wounds of war." We have trained up thousands of clinicians across the VA to deliver empirically supported treatments for the "trauma of being exposed to war."

And yet, the idea that veterans die by suicide because they deploy to war zones is a misconception: A 2015 study of nearly four million U.S. service members and veterans found that deployment to Iraq and Afghanistan is not associated with an increased risk of suicide. There are some injuries that are even more invisible, more insidious, and more lethal than the "invisible wounds of war" that we have focused so much time and money to address. For many of my patients, the hidden pain they carried came from other sources. For instance, five very common sources were childhood traumas; moral injuries; past experiences of social rejection upon entering treatment settings; feelings of alienation from their closest family members and civilians in general; and the helpless rage and overwhelming grief of losing fellow veterans to combat, training accidents, and suicide.


How Can Warriors Be "Heroes" and "Broken" at the Same Time?
My most recent book, Beyond the Military: A Leader's Handbook for Warrior Reintegration, was written to shift the paradigm of transition. Instead of seeing veterans as "broken" and needing help to go from a sitting position to a standing position, Beyond the Military provides a roadmap to help warriors fulfill their full potential in life after military service.

Our nation's warriors have an abundance of grit, but they are not superhuman. They are humans—just like us—with a clarity of purpose, and bonds of love and trust, that allow them to accomplish superhuman feats. This is a book about the challenges faced by some of our strongest and bravest citizens. It is necessary to focus targeted attention on these challenges if we are to better understand them. But as Sgt. Eddie Wright expressed in the foreword, this is not a book that perpetuates the myth that warriors are "broken." Armed with the right insights, warriors can and will heal and go on to become stronger than they have ever been. Traumas don't just break us down; they are defining moments that can show us how strong we really are. They are moments that help us see our deeper purpose and the values that guide a meaningful life.

And strength takes on different forms in different contexts. In battle, it might mean suppressing our natural human emotions in the heat of a firefight to stay laser focused on our objective. In mental warfare, it might mean taking the harder path—acknowledging our struggles with those we trust and drawing from the strength of our tribe to overcome these struggles.


Who Is a Healer, Really?
A doctor, with many years of formal education and training, may or may not be a healer. In some cases, the way a doctor practices is the reason why a veteran drops out of treatment, never to return. But a "Doc," someone who builds the kind of deep trust veterans had in the service with their medics—that person is a healer.

A wife or a parent who recognizes and helps carry the grief of their military loved one—these are healers.

A husband who listens with love and empathy to his warrior wife—he becomes essential in bringing her all the way home.

Fellow students in classrooms who respectfully integrate veterans into their college communities—they become healers.

Even actors who turn down roles that perpetuate one-dimensional myths of veterans as either heroes or broken gear, who instead pursue roles that portray veterans as multifaceted human beings (like all of us)—they become healers.

What is a healer? It is all of us, or none of us, depending on what we understand and how this moves us to act in support of those who protect us.


The Surprise Gift
We can learn much about our own condition by understanding those who protect us—their struggles, their triumphs, their bonds with each other. In the vein of Sebastian Junger's Tribe , there are indescribably beautiful aspects to the connection that military brothers and sisters share. Like Junger's Tribe , Warrior is a true crossover, knitting together the worlds of the warrior and those they protect in thought-provoking ways. Additionally, rather than applying solely to those who serve in the military, and those who care for them,Warrior seeks to develop psychological insight and meaningful personal growth for a broad readership through close observation of how hidden pain, courage, and love show up in the stories of some of the bravest men and women in our society.

Warrior gives thoughtful consideration to subjects that have not been well explored as yet, for example, moral injury; how to approach conversations about firearm safety; the links between shame, grief, and suicidal ideation; the ways that current suicide prevention approaches may be failing us; the trust gap between warriors and civilian treatment providers, and the bond between veterans and their trusted healers. The subjects in the book are not only undeveloped as yet, but they are also critical and very timely. Finally, a unique feature of the book is that insights are paired with exercises and questions for further reflection.

Writing this book has been a labor of love. I have walked on sacred ground with many of our nation's service members, veterans, and first responders. As we have walked together, I have learned a great deal from them. They have taught me about different kinds of courage and bonds of love with a power greater than despair. I hope that what I've written here helps us to better support those who risk it all to protect us, and to better support each other as well.

M. A. Reger, D. J. Smolenski, N. A. Skopp, M. J. Metzger-Abamukang, H. K. Kang, T, A. Bullman, S. Perdue, and G. A. Gahm. "Risk of Suicide Among US Military Service Members Following Operation Enduring Freedom or Operation Iraqi Freedom Deployment and Separation From the US Military," JAMA Psychiatry, 72 (2015): 561–569.