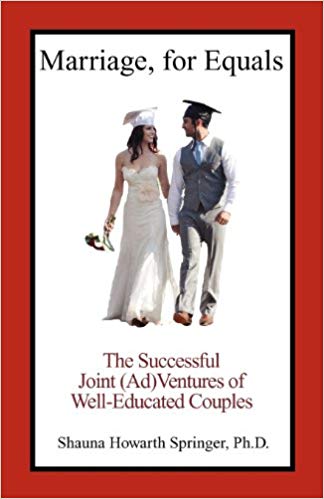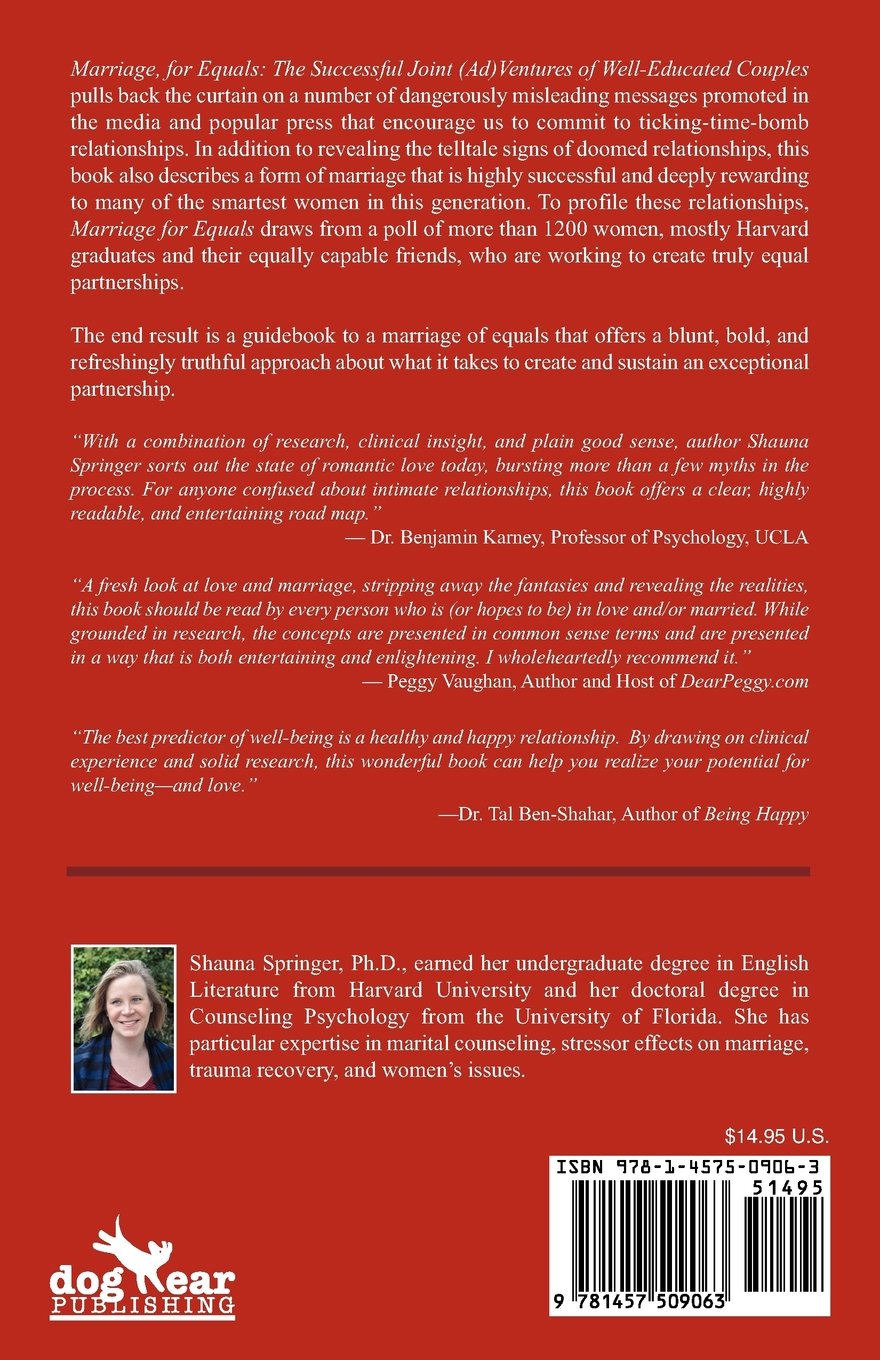 Marriage, for Equals:
The Successful Joint (Ad)Ventures of Well-Educated Couples pulls back the curtain on a number of dangerously misleading messages promoted in the media and popular press that encourage us to commit to ticking-time-bomb relationships. In addition to revealing the telltale signs of doomed relationships, this book also describes a form of marriage that is highly successful and deeply rewarding to many of the smartest women in this generation. To profile these relationships, Marriage for Equals draws from a poll of more than 1200 women, mostly Harvard graduates and their equally capable friends, who are working to create truly equal partnerships.
The end result is a guidebook to a marriage of equals that offers a blunt, bold, and refreshingly truthful approach about what it takes to create and sustain an exceptional partnership.
Scholarly Reviews

With a combination of research, clinical insight, and plain good sense, author Shauna Springer sorts out the state of romantic love today, bursting more than a few myths in the process. For anyone confused about intimate relationships, this book offers a clear, highly readable, and entertaining road map.
- Dr. Benjamin Karney, Professor of Psychology, UCLA

A fresh look at love and marriage, stripping away the fantasies and revealing the realities, this book should be read by every person who is (or hopes to be) in love and/or married. While grounded in research, the concepts are presented in common sense terms and are presented in a way that is both entertaining and enlightening. I wholeheartedly recommend it.
- Peggy Vaughan, Author and Creator of DearPeggy.com

The best predictor of well-being is a healthy and happy relationship. By drawing on clinical experience and solid research, this wonderful book can help you realize your potential for well-being and love.
- Dr. Tal Ben-Shahar, Author of Being Happy
Reviews posted on Amazon, in the US and UK

- In terms of value, this may be one of top 5 of books I own. This author is unusually insightful and this comes across in addition to her technical accomplishments. It results in a book that is very wise on top of containing solid research and interesting book references for deeper understanding. She covers a few things that I've understood to be true but never found support for anywhere in society. But a lot of what she says is completely new to me. And she backs it all with solid research. Successful relationships take more energy than I thought, so this book can give a good basis for staying single, while you set your standards appropriately. I'd strongly recommend this book to anyone with independent, pragmatic thinking. And also for people with an interest in self- improvement - for example the section on assertiveness is one of the best explanations I've seen of this quality, and why it's a positive thing in relationships.

- I absolutely adored this book. It was well written and made the reader think and reflect on their own approach to relationships. After reading this book I definitely know how to approach future relationships and what I am looking for in a potential spouse.

- Engaging and well-researched. I really enjoyed it. I like that it is written in an engaging style but also based on solid research, both the author's and other scholars. The book would be most useful to people who are not yet in a committed relationship, but it has something to offer to people at any stage of life (I've been married for 24 years and still found it interesting). It would be a great gift for couples who are engaged or newly-weds.